Assisting Your IT Department with Co-Managed IT Services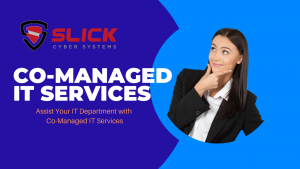 At Slick Cyber Systems, we understand that managing your IT systems can be a daunting task. That's why we offer co-managed IT services to help your business thrive without the hassle of managing your IT infrastructure on your own.
What are Co-managed IT services?
we handle the technical details. Our flexible service offerings and customizable solutions ensure that we can meet your unique needs and budget.
At Slick Cyber Systems, we understand the importance of empowering internal staff, enhancing network security, improving performance, and reducing costs associated with IT needs. Our co-managed IT services offer a strategic partnership with your company or organization, by combining our expertise with your internal team's knowledge to create a robust and efficient IT environment.
Here's how Slick Cyber Systems can help CO- Manage IT Services:
Expertise and Consultation:
Our team of experienced IT professionals will work closely with your internal IT staff to understand your business objectives, current infrastructure, and pain points. We'll provide valuable insights and recommendations based on industry best practices to optimize your IT environment.
Increased Security
Data breaches and cyber threats are significant concerns for businesses today. Slick Cyber Systems will conduct comprehensive security assessments to identify vulnerabilities in your network infrastructure, applications, and data storage. By implementing robust security measures, such as firewalls, intrusion detection systems, and encryption protocols, we can strengthen your defenses and protect your valuable data from unauthorized access or breaches.
Network Performance Enhancement:
Slick Cyber Systems will conduct a thorough analysis of your network infrastructure to identify bottlenecks and areas that can be optimized. We'll work collaboratively with your internal team to fine-tune configurations, improve bandwidth allocation, and implement network monitoring tools to ensure optimal performance and minimize downtime. By optimizing your network, we can enhance productivity, facilitate seamless communication, and support your business operations more efficiently.
Cost Reduction:
Managing an entire IT infrastructure in-house can be costly, requiring significant investments in hardware, software licenses, and skilled personnel. By partnering with Slick Cyber Systems, you can leverage our existing resources, cutting-edge technologies, and economies of scale to reduce your IT expenses. Our co-managed approach enables you to allocate your internal resources strategically, focusing on core business tasks while leaving routine maintenance and support to us. Additionally, our proactive monitoring and maintenance practices minimize the risk of costly downtime and system failures.
Proactive Support and Maintenance
With co-managed IT services, Slick Cyber Systems will provide ongoing support and maintenance, ensuring that your IT environment remains up-to-date, secure, and optimized. Our team will monitor your systems round-the-clock, proactively addressing any issues or potential vulnerabilities. We'll also conduct regular system updates, patch management, and performance tuning to ensure maximum reliability and efficiency.
Virtual Chief Information Officer (vCIO) services
In addition to our co-managed IT services, Slick Cyber Systems also offers Virtual Chief Information Officer (vCIO) services to further enhance the value we provide to our clients. A vCIO serves as a trusted advisor and strategic partner, bringing high-level IT expertise and guidance to your organization. Here's how our vCIO services can benefit your business
By partnering with Slick Cyber Systems for co-managed IT services, your company can benefit from the expertise of our skilled professionals while empowering your internal staff. Together, we'll create a secure and high-performing IT environment that aligns with your business objectives. With improved network performance, enhanced security measures, reduced costs, and ongoing support, your organization can focus on driving innovation, growth, and success.
Contact Slick Cyber Systems today at 570-215-8888 to learn more about our co-managed IT services and how we can help your business stay ahead of the game.